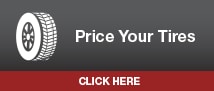 Tires are critical to your vehicle's stability, handling and ride quality as well as fuel economy and safety too. If it's time to consider replacing your tires, South Toyota has your exact replacements for the original tires at competitive prices!  Our Toyota tire experts will replace your tires and ensure they are properly mounted and inflated to match your vehicles specifications.  

If you'd like to send us an inquiry, click on the "Price Your Tires" link to the right.  Keep your Toyota a Toyota by replacing your original tires at South Toyota's Tire Center today!



Toyota Tires Dallas Texas

- Pick Up: Call or Fax Your Order for Pick Up in Dallas TX
- Retail Parts: Call, Fax or Order Online
- Wholesale Parts: Call, Fax or Order Online
- Delivery: Delivery is available in the Dallas Metro Area call for details.
- Shipping: Same day shipping of in stock parts order by 3pm.
Call 972-780-0431 Local | 800-877-6672 Toll Free

South Toyota maintains a comprehensive inventory of high quality genuine Toyota OEM parts. Our highly knowledgeable staff is here to answer your parts inquiries. Should we not carry a part for which you're searching, we can order it for you and usually have the part the next day. We can ship it or have it available for pick up in Dallas.

Hours
Monday

7:00 AM - 6:00 PM (Closed from 1 - 2 PM)

Tuesday

7:00 AM - 6:00 PM (Closed from 1 - 2 PM)

Wednesday

7:00 AM - 6:00 PM (Closed from 1 - 2 PM)

Thursday

7:00 AM - 6:00 PM (Closed from 1 - 2 PM)

Friday

7:00 AM - 6:00 PM (Closed from 1 - 2 PM)

Saturday

7:00 AM - 3:00 PM

Sunday

Closed