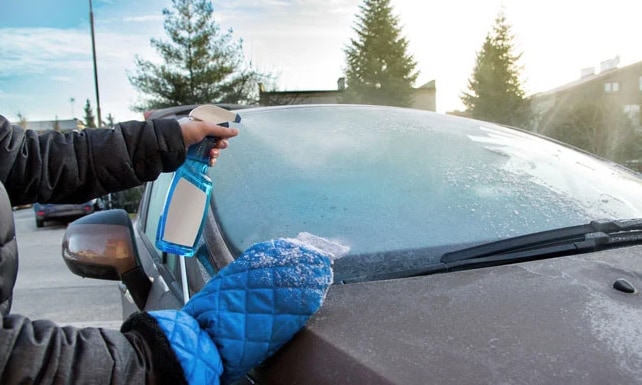 As the Dallas weather temperature has been at an extreme low lately due to the polar vortex, we've been confined to our homes, even more, this past week. When it's finally time to hit the road, it would be no surprise that you'll come to find your windshield to be completely iced over. If this is your case, let us help you with this frustration. We've come up with a few simple steps to help you defrost your windshield in seconds with a common household product - rubbing alcohol! See below to proceed with steps.
Step 1: Take an empty 12oz spray bottle and fill with 8oz of rubbing alcohol and 4oz of luke-warm water.
Step 2: Mix the solution and begin to spray the entire windshield until fully coated and wait a few minutes to allow the mixture to set into the ice.
Step 3: Once the mixture has settled in, begin to scrape off the excess ice with a glove/mitt or an old credit card.
Step 4: And voila, you'll be done in seconds and have a perfectly defrosted windshield!
The South Toyota team hopes all of our customers are staying safe and warm in these current weather conditions. If you're running into any issues with your vehicle, please don't hesitate to reach out to our South Toyota Service Department. Our highly-trained technicians will take care of any and all of your vehicle needs. You may schedule your service appointment online or call us at (972) 780-1166. We are located at 39660 LBJ Fwy South, Dallas, TX 75237 and proudly serve our Fort Worth, Arlington, Downtown Dallas, and surrounding communities.
Source:
https://www.bobvila.com/articles/how-to-defrost-a-windshield/